Extron IN1804 DO (60-1699-13)
4:1×2 4K/60 Seamless Switcher/Scaler with DTP2 output
3 × HDMI, 1 × DisplayPort Inputs; 1 × HDMI and 1 × DTP Outputs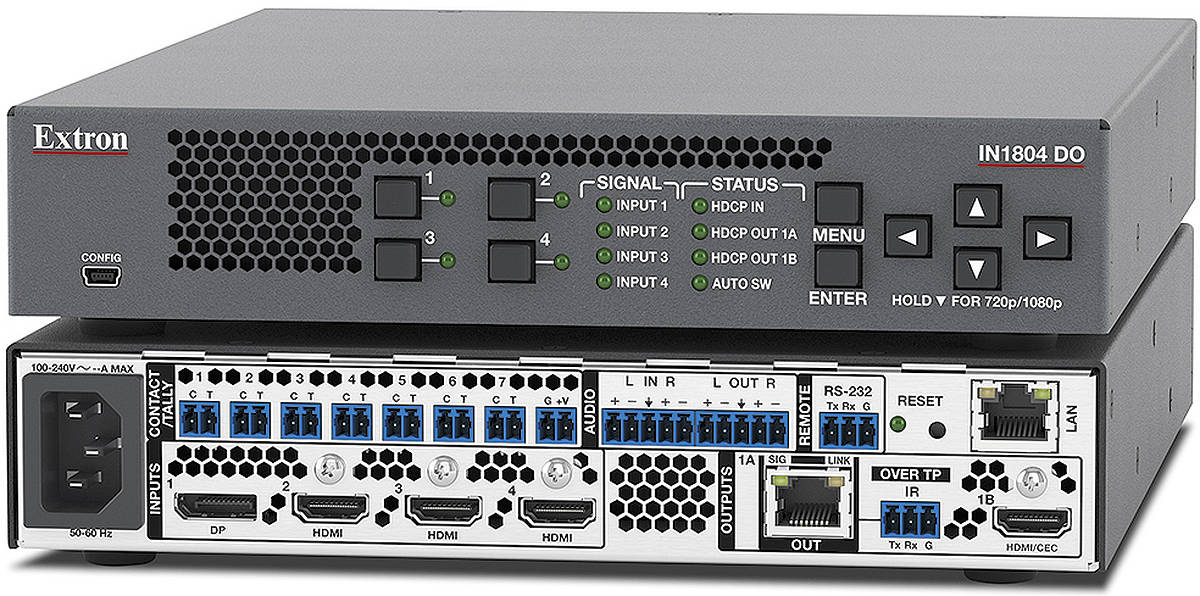 For pricing and configuration options please call or email us.
The Extron IN1804 is a compact four input scaler that supports signal resolutions up to 4K/60 at 4:4:4. It incorporates Extron-patented Vector 4K scaling technology specifically engineered for critical 4K signal processing applications. It features DisplayPort and HDMI inputs with available models that provide Extron DTP2 extension of 4K/60 video, audio, and control signals up to 330 feet (100 meters) over a shielded CATx cable. The IN1804 delivers the convenience of fast and reliable automatic switching, along with advanced capabilities such as audio embedding/de-embedding, seamless transition effects, and logo keying. Designed for professional AV integration, the IN1804 can be controlled and configured using Ethernet, RS-232, USB, and contact closure with tally outputs.
Vector 4K Scaling
The IN1804 incorporates the Extron Vector 4K scaling technology, developed in‑house and engineered to deliver best-in-class image upscaling and downscaling. The Vector 4K engine embodies a new set of image processing algorithms that deliver uncompromising scaling performance with 30‑bit precision processing. This enables sharp, accurate scaling of standard definition and high definition signals up to 4K, as well as downscaling of 4K source signals for lower resolution displays without losing critical image detail.
For professional-quality transitions between sources, the IN1804 offers a range of switching effects. These include a freeze/fade transition that fades out a final frozen frame of the previous input source as the newly selected source fades in, a cut through black transition, and a fade through black transition. In addition, the IN1804 provides the capability to insert a custom graphic image, such as a company logo, onto the video outputs. Selectable FILL and FOLLOW modes are available to set the desired video aspect ratio. FILL mode provides full screen output, while FOLLOW mode preserves the original aspect ratio of the input signal.
Available Integrated Digital Twisted Pair Extension
The IN1804 DI and IN1804 DI/DO include one DTP2 twisted pair input to receive signals from remote DTP and DTP2 transmitters located at a conference table, lectern, or wall. The IN1804 DO and IN1804 DI/DO have one DTP2 output to transmit to a DTP or DTP2 receiver behind a flat-panel display on a wall, above a ceiling-mounted projector, or any other remote location. DTP transmitters and receivers are available in compact, low-profile enclosures, plus decorator-style wallplate and floorbox versions to suit the installation requirements of a specific application.
DTP2 connections include additional convenient, integrator-friendly features designed to help simplify installation. Bidirectional RS-232 and IR signals can be inserted from a control system and transmitted over the single shielded CATx cable together with the video and audio, enabling control of a source or display. Additionally, the IN1804 can send power to select DTP and DTP2 endpoints over the same shielded CATx cable, streamlining system design and installation. The DTP2 output on IN1804 DO and IN1804 DI/DO can be configured for compatibility with HDBaseT-enabled displays to send digital video and embedded audio, plus bidirectional RS‑232 and IR signals up to 330 feet (100 meters) over a shielded CATx cable.
In addition to supporting DTP endpoints, the IN1804 can be integrated into an XTP CrossPoint matrix switcher system. This is ideal for facility-wide AV system applications with a centralized AV signal distribution infrastructure, as well as several presentation spaces with local AV switching and processing. An IN1804 in a room can connect into an XTP CrossPoint matrix switcher in a central equipment rack or closet to receive shared AV resources, or a connected IN1804 can distribute a local presentation to several destinations in a facility.
Comprehensive EDID Management
To ensure professional AV systems perform as designed, it is crucial that EDID communication between video sources and sink devices is managed correctly. Correct management of EDID allows source equipment to send video and audio signals in formats and parameters that best match display device capabilities. Mishandling of EDID could result in suboptimal image quality, no image, and poor sound. The IN1804 offers a suite of Extron-exclusive tools and capabilities for complete control over EDID management. The EDID Minder software function offers a library of EDID files that can be applied to any video input. Additional EDID can be captured from connected displays or uploaded by the user. EDID Minder is easily accessible in PCS software, and EDID Manager 2.1 is a freely downloadable Windows utility for viewing and editing EDID files. This software enables video format optimization, chroma sampling and color bit depth manipulation, and adjustment to audio capabilities. Edited files may be saved, added to the library, and easily applied to devices within the system.
Multiple Options for Local and Remote Operation
The IN1804 features front panel controls and on-screen menus for quick access to system settings. It also features automatic switching between inputs to streamline system operation when the unit is installed in locations such as a lectern or under a conference table. Remote configuration and control are available via Ethernet, USB and RS‑232, plus contact closure with tally output for input switching and muting. The IN1804 can be configured using Extron's PCS software with a user‑friendly GUI that is very easy to navigate. This software application allows for expedited setup and commissioning, real-time operation and monitoring, plus the ability to configure multiple Extron products units in the same session.
Convenient Under-Table and Surface Mounting
The IN1804 is housed in a compact 1U, half rack width enclosure that can be installed virtually anywhere, including inconspicuous placement underneath a conference table, inside a credenza, or in a lectern. Extron UTS Series and MBU 123 mounting hardware are available separately to facilitate under‑table and surface mounting
Extron IN1804 DO Key Features
Integrates DisplayPort, HDMI, and audio sources into presentation systems

-

IN1804 models provide centralized switching for a wide range of AV sources.

DisplayPort, HDMI, and optional DTP2 inputs

-

IN1804 and IN1804 DO models feature one DisplayPort and three HDMI inputs. The IN1804 DI and IN1804 DI/DO feature two HDMI, one DisplayPort, and one DTP2 input.

HDMI and optional DTP2 outputs

-

IN1804 and IN1804 DI models feature dual mirrored HDMI outputs. The IN1804 DO and IN1804 DI/DO feature one DTP2 output and one mirrored HDMI output.

Advanced Extron Vector™ 4K scaling engine

-

The Vector 4K scaling engine is specifically designed for critical-quality 4K imagery, with best-in-class image upscaling and downscaling.

Supports signal resolutions up to 4K/60 with 4:4:4 Colour sampling

Supports DisplayPort SST - Single Stream Transport data rates up to 21.6 Gbps

Supported HDMI 2.0 specification features include data rates up to 18 Gbps, Deep Color, and HD lossless audio formats

Logo image keying and display

-

A logo graphic can be positioned and keyed over the live video output. Logo graphics in BMP, GIF, JPG, PNG, or TIFF format may be uploaded to the unit. Full screen images up to 4K resolution can also be displayed to eliminate loss of video between presentations.

Selectable seamless switching transitions

-

Seamless freeze/cut, freeze/fade, cut through black, and fade through black transition effects are available at the scaled video outputs.

Auto‑switching between inputs

-

Auto‑switching allows for intuitive operation in collaboration spaces. Multiple switching priority modes are available, including last-connected input and user-selectable priority.

HDCP 2.3 compliant

-

Ensures display of content-protected 4K video media and maintains interoperability with earlier versions of HDCP.

Stereo audio embedding and de-embedding

-

Analogue audio signals can be embedded onto the DTP2 or HDMI output, and embedded two-channel PCM audio can be extracted to the Analogue outputs.

Displays user-supplied images for screen saver, corporate branding, logo insertion, and HDCP notification

-

Custom, user-loaded images can be displayed as a screen saver after a predefined duration of inactivity at the video input, or whenever the input is disconnected between presentations. User-supplied images can also be displayed for HDCP Visual Confirmation, whenever HDCP-encrypted content is transmitted to a non‑HDCP compliant display.

CEC - Consumer Electronics Control Capability

-

Standard, built-in CEC commands can be triggered to control displays or other AV devices connected to the HDMI or DTP2 outputs. Each video output can deliver CEC commands independently. The ability to control specific functions, such as power on/off, input selection, or volume level, is dependent on implementation by the device manufacturer.

Available integrated DTP2 extension supports transmission of 4K/60 video, audio, and control up to 330 feet (100 meters) over a shielded CATx cable

Extron XTP DTP 24 shielded twisted pair cable is strongly recommended for optimal performance

Compatible with CATx shielded twisted pair cable

-

Supports a maximum transmission distance of 330 feet (100 meters) for all compatible resolutions when used with CATx shielded twisted pair cable. Shielded twisted pair cabling with solid centre conductor sizes of 24 AWG or better is recommended for optimal performance.

Remote powering of select DTP transmitters or receivers

-

The IN1804 can provide power to select DTP or DTP2 transmitters and receivers over the twisted pair connections, eliminating the need for separate power supplies at the remote units.

RS‑232 insertion from the Ethernet control port

-

Saves system resources and simplifies installation by enabling a control processor to access remote RS-232 devices over Ethernet.

Accepts additional Analogue stereo audio signals

-

Supports stereo Analogue audio signals for simultaneous transmission over the same shielded twisted pair cable.

Bidirectional RS‑232 and IR pass‑through for AV device control

-

Bidirectional RS‑‑232 control and IR signals can be transmitted alongside the video signal over the DTP connection, allowing the remote device to be controlled without the need for additional cabling. Bidirectional control extension eliminates the need for control system wiring to remote devices.

Compatible with DTP and DTP2‑enabled products, plus XTP CrossPoint matrix switchers

-

Enables mixing and matching with desktop and wallplate endpoints, as well as other DTP and DTP2‑enabled products to meet application requirements. IN1804 can be integrated with XTP and XTP II CrossPoint matrix switchers to provide connectivity between presentation spaces and a larger, facility-wide system. Not compatible with DTP3 inputs or outputs.

DTP2 output is compatible with HDBaseT-enabled devices

-

The IN1804 DO and IN1804 DI/DO can be configured to send video and embedded audio, plus bidirectional RS‑232 and IR signals to an HDBaseT-enabled display.

User-selectable HDCP authorization for DTP2 and HDMI inputs

-

Allows inputs 2 through 4 to appear HDCP compliant or non-HDCP compliant to the connected source, which is beneficial if the source automatically encrypts all content when connected to an HDCP-compliant device. Protected material is not passed in non-HDCP mode.

Key Minder® continuously verifies HDCP compliance for quick, reliable switching

-

Key Minder authenticates and maintains continuous HDCP encryption between input and output devices to ensure quick and reliable switching in professional AV environments, while enabling simultaneous distribution of a single source signal to one or more displays.

Comprehensive EDID management

-

Use PCS software to access EDID Minder for setting video input EDID, capturing EDID from connected displays, or uploading custom EDID files. Proper EDID management ensures that sources and displays are easily integrated into a system resulting in optimized system operation. Freely downloadable EDID Manager 2.1 software is available for advanced EDID editing and creating custom EDID files.

EDID Minder® automatically manages EDID communication between connected devices

-

EDID Minder ensures that the source powers up properly and reliably outputs content for display.

SpeedSwitch® Technology provides exceptional switching speed for HDCP-encrypted content

Supports custom EDID and output resolutions

-

User-defined output resolutions up to 600 MHz pixel clock can be supported by uploading custom EDID files, or capturing EDID from a display or other destination device.

HDCP authentication and signal presence confirmation

-

Provides real-time verification of HDCP status for each digital video input and output. This allows for simple, quick, and easy signal and HDCP verification through RS‑232, USB, or Ethernet, providing valuable feedback to a system operator or helpdesk support staff.

HDCP Visual Confirmation

-

When HDCP-encrypted content is transmitted to a non‑HDCP compliant display, a full screen green signal is sent to the display for immediate visual confirmation that protected content cannot be viewed on that display.

Aspect ratio control

-

The aspect ratio of the video output can be controlled by selecting a FILL mode, which provides a full screen output, or a FOLLOW mode, which preserves the original aspect ratio of the input signal.

Motion-adaptive deinterlacing for signals up to 1080i

-

Advanced deinterlacing for all interlaced signals up to 1080i delivers optimized image quality.

Automatic 3:2 and 2:2 pulldown detection

-

Advanced film mode processing techniques that help maximize image quality for content sources that originated from film.

Auto‑Image™ setup

-

When activated, the unit automatically optimizes the image by analyzing and adjusting to the video input signal. This can save time and effort in setting up a newly connected source, particularly in presentation environments where different guest presenter laptops with various output resolutions will be connected.

Auto Input Memory

-

When activated, the unit automatically stores size, position, and picture settings based on the incoming signal. When the same signal is detected again, these image settings are automatically recalled from memory.

Input presets

-

Memory presets are available to store and recall optimized image settings.

Output muting control

-

The video and audio output may be muted independently.

Image freeze control

-

A live image can be frozen using RS‑232, USB, or Ethernet control.

On‑screen menus

-

Intuitive on‑screen menus allow for easy system setup using the front panel controls. Key parameters such as input and output video formats are conveniently grouped on the initial Quick Setup screen, while additional screens provide full control over the unit's other functions and settings.

Picture controls for brightness, contrast, and detail, as well as horizontal and vertical sizing, and positioning

Internal video test patterns and pink noise generator for calibration and setup

-

IN1804 models offer several video test patterns and audio pink noise to facilitate proper system setup and calibration of display devices.

HDMI to DVI Interface Format Correction

-

Automatically enables or disables embedded audio and InfoFrames, and sets the correct Colour space for proper connection to HDMI and DVI displays.

Automatic Colour bit depth management

-

Automatically adjusts Colour bit depth based on the display EDID, preventing Colour compatibility conflicts between source and display.

Audio file playback

-

Up to 16 pre-recorded messages may be stored and played back over the program audio output.

Output volume control

-

Provides master volume control for the Analogue line level output, two-channel PCM HDMI audio, as well as DTP Analogue audio for the IN1804 DO and IN1804 DI/DO models.

Audio input gain and attenuation

-

Gain or attenuation can be adjusted for the Analogue audio input to eliminate noticeable differences when switching between sources.

Audio switching transitions

-

The audio output level automatically ramps down and then ramps up to match the video during switching transitions.

Integrated audio delay

-

The audio output is automatically delayed to compensate for latency introduced by the video processing.

Audio input assignment

-

The audio input may be associated with one or more video inputs.

Supports multiple embedded audio formats

-

IN1804 models are compatible with a broad range of multi‑channel audio signals, providing reliable operation with HDMI sources.

Output Standby Mode

-

IN1804 models can be set to automatically mute video and sync output to the display device when no active input signal is detected. This allows the projector or flat-panel display to automatically enter into standby mode to save energy and enhance lamp or panel life.

Power Save Mode

-

IN1804 models can be placed in a low power standby state to conserve energy when not in use.

Front panel security lockout

-

This feature locks out all front panel functions; all functions however, are available through Ethernet, USB, or RS‑232 control.

Ethernet monitoring and control

-

Enables control and proactive monitoring over a LAN or WAN.

Built-in Web pages

-

Enables the use of a standard browser for device monitoring and troubleshooting over an intuitive Web interface.

RS‑232 control port

-

Enables the use of serial commands for integration into a control system. Extron products use the SIS™ - Simple Instruction Set command protocol, a set of basic ASCII commands that allow for quick and easy programming.

Contact closure remote control with tally output

-

Contact closure ports enable remote video input selection control, while tally outputs provide +5 VDC to illuminate LEDs for video input identification. The contact and tally ports may be configured for independent use when the IN1804 is connected to an external control processor.

Compatible with Teamwork® Show Me® Cables

-

Show Me cables provide convenient connectivity and user input selection and control for TeamWork Collaboration Systems. Visit the TeamWork System Builder to create a customized system for your collaboration environment.

Front panel USB configuration port

-

Enables easy system configuration without having to access the rear panel.

Front panel LED indicators for signal presence, HDCP status, and power

-

Provides visual indication of system status for real-time feedback and monitoring of key performance parameters.

RJ‑45 signal and link LED indicators for DTP port

-

Provides a means for validating signal flow and operation, allowing quick identification of connectivity issues.

Easy setup and commissioning with Extron's PCS - Product Configuration Software

-

Conveniently configure multiple products using a single software application.

Compact 1U, half rack width metal enclosure

-

The half rack width enclosure is designed for inconspicuous under table placement using the UTS Series Under Table Shelf System or MBU 123 Low Profile Mount Kit, available separately.

Includes LockIt® HDMI cable lacing brackets

Internal Extron Everlast™ power supply

-

Provides worldwide power compatibility, with high‑demonstrated reliability and low power consumption for reduced operating cost.

Extron Everlast Power Supply is covered by a 7‑year parts and Labour warranty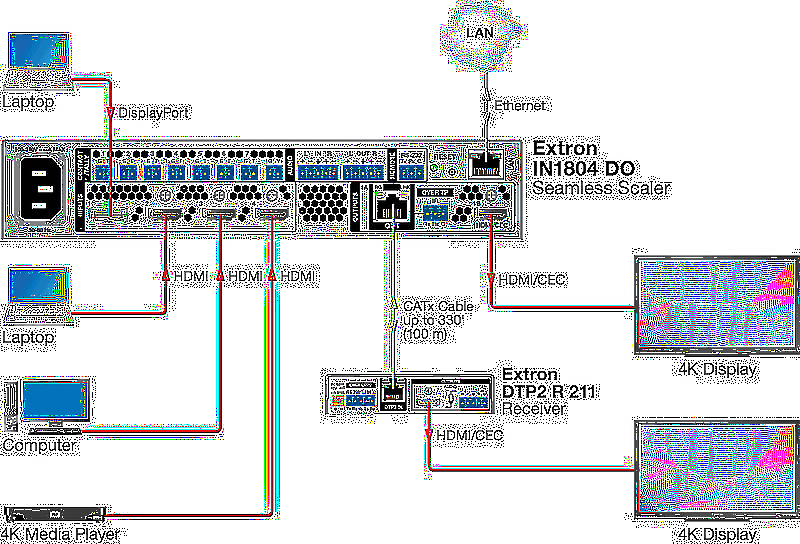 Extron IN1804 Series Seamless Switchers