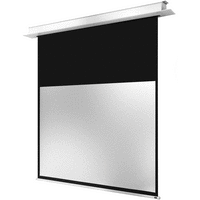 Quiet motor drive
Black drop above
Variable, stepless adjustment of the screen height up to max. 100cm
3-ply coated projection cloth is ideal for high-resolution 4K content
Type D cloth with 1.2 gain and 150 deg. viewing angle, fire class B2
Black edge masking left, right and below the screen
Black, opaque back
Including pre-assembled push button for installation control, optional radio or IR systems available
Wedge-shaped weighted bar that finishes flush with the housing when closed.